We already talked many times on this website and our social touchpoints about Tiny Games, the brand of redBit games dedicated to casual games, that publishes products made by indie developers.
Today we want to "explore" Tiny from the inside by interviewing one of our regular collaborators: Daniele Bianchini.
Daniele is a professional in the sector of mobile games, professor of Vigamus Academy, and he has been publishing games with Tiny for years. We chose to interview him for a reason: recently his games published with Tiny Games have passed 1 million users milestone.
Some names? Among the games that had the biggest success are surely 100 Levels (also noticed by PewDiePie), Unplugged and Galaxy Wars – Ice Empire.
Tiny games has been a perfect environment for Daniele to develop mobile games: the brand focuses on casual games, and Daniele's preferred game genre is exactly this one.
To sum up, this collaboration has definitely been a success.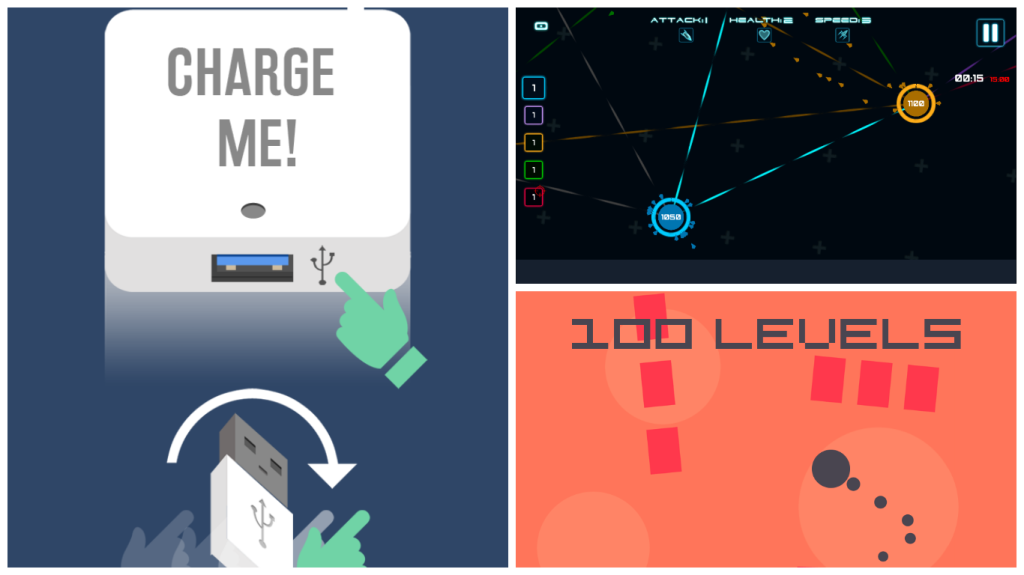 However, let's see what Daniele has to say about Tiny Games, his work and the milestone that he has recently reached. Who knows, some developers may get inspired to make new games after reading the interview (and publish them with us, obviously! 😉 )!
First of all, when you decided to develop mobile games?
It was always a dream that I kept in the drawer. 5 years ago I used to develop mobile apps, and at some point I realized I am capable of creating my own game. This is how it started, and a year after I published Planet Zoom & The World Inside, a game for the iPad. I have to say that despite the initial difficulties, it was definitely worth it. On March 18th I will tell my story as one of the speakers at Codemotion in Rome.
Is it the only activity you dedicate yourself to?
From the very beginning I decided that this would be my main work. Then, the experience I acquired brought me in 2015 in Vigamus Academy to teach a course "Instruments and Techniques of Game Development".
How do you develop your games? Which frameworks do you use?
I started with Objective-C and Cocos2D. Then 3 years ago I tried Unity3D and haven't left Unity environment since then. It allows me to develop prototypes extremely fast. In addition to this, it is very easy to publish games on all of the most important platforms, from smartphones to consoles.
When did you start your collaboration with Tiny games?
We published the first game Planet Zoom 3D in 2014 for redBit games. I was looking for a publisher for my games, and suddenly found one near my home!
How has the collaboration with Tiny games changed your life?
Tiny Games takes care of publication and marketing, allowing me to focus exclusively on game development. Besides this, the working environment is so friendly that I am happy to come to the office every day.
1 million users is a great achievement. How do you feel about the fact that there are so many people in the world who have fun playing your games?
This news gives me a great satisfaction and inspiration to develop new projects!
Would you define the Italian game development industry differently from the international one?
I know many young talents who are really eager to work, but they lack the entrepreneurial mentality necessary to start one's own business. The companies that focus solely on video games exist, but there are not so many of them. However, lately the situation has been changing for the better.
What advice would you give to someone who wants to approach mobile game development industry?
The most important advice is to find and create a great team and not to do everything by yourself. You need diverse competencies to develop the game from the prototype to the publication. The practical realization of the game is just one of the aspects. In terms of programming, I would say one needs to start with something simple and find someone else with more experience, who can follow the project and give valuable feedback. I've seen many times when developers threw themselves at the mega projects with high level of risk of not ever getting to the publication stage.
For someone who wants to get to know your games, which ones should they try?
It depends on the preferences: 100 Levels for the most casual players; Galaxy Wars for those who are looking for something more sophisticated. In any case, on my website www.lookygames.com one can find all my works.
Any future projects you would like to mention?
I started to collaborate with other developers and designers, and we are working on the most ambitious games so far! One of the projects I am working on is a game on Apple TV.
Thank you for your valuable advice, Daniele, and good luck with future projects!